Autumn is arriving – the colder weather is creeping in and the trees turn from bright green to dull orange as leaves start to fall. While warm weather may deter you from travelling further afield, the colder climate also tempts us indoors to warm up and visit the latest shows! From warm, wine-filled open evenings to eclectic contemporary shows contrasting the works of modern art masterminds, there's something for every art fan in this month's pick of the world's shows.
Until 22nd of September 
Musee de L'Orangerie, France
March 2020 marks 125 years since the death of Berthe Morisot, born January 14th 1841. Morisot was a female member of the circle of painters in Paris who would later become known as the Impressionists. A leading Impressionist figure, Berthe Morisot unfortunately remains to this day less well-known than her legendary friends Monet, Degas and Renoir. Yet, at the time she was recognised as one of the group's most innovative artists. The exhibition traces the exceptional career of a painter who, at odds with the practices of her time and her circle, became a key figure of the Parisian avant-garde movement in the late 1860s up until her untimely death in 1895.
Until 15th of September
Mauritshuis Museum, Den Haag, Netherlands
The Mauritshuis gallery represents the most renowned and important works of northern Dutch Renaissance painter Rembrandt. Rembrandt is regarded as one of the greatest visual artists in the history of art – with the use of his chiaroscuro technique his baroque paintings are demonstrative of his exceptional skill. The collection comprises eighteen paintings including Rembrandt's late self-portrait and 'The Anatomy Lesson of Dr Nicolaes Tulp'. The exhibition will present the shift in perceptions of Rembrandt throughout the centuries.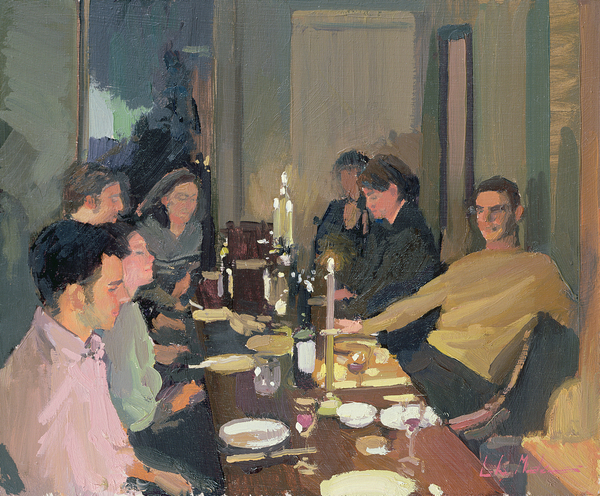 Luke & Bella Martineau: Anniversary 
Until 23rd September
340 Kings Road, London, England
This is the first joint exhibition of husband and wife artists Bella and Luke Martineau, planned specially to coincide with the couple's 20th wedding anniversary. The theme of the show is consistent to this with each artist painting twenty still lives, depicting the traditional wedding gift for that year. Expect bright, sunny oils.
Lucio Fontana: on the threshold
Until 29th of September
Guggenheim Bilbao Museum, Bilbao, Spain
This exhibition reexamines the career of Lucio Fontana (b. 1899, Rosario, Argentina; d. 1968, Varese, Italy), one of the most innovative artists of the 20th century. Featuring a wide selection of Fontana's celebrated slashed paintings or Cuts (tagli) created in the last two decades of his career, the exhibition also presents extraordinary examples of other major bodies of work since the artist's beginnings as a figurative sculptor. Alongside important works on canvas, Lucio Fontana: On the Threshold includes exquisitely crafted works in ceramic—a material Fontana used during his entire career—as well as his pioneering environments (ambienti). These visually immersive constructions powerfully contextualize Fontana's radical search to integrate the space of art and the space of the viewer in one continuous field of experience.
Until 22nd of September
Museum Tinguely, Basel, Switzerland
Horn's work was always inspired by the human body and its movement. In her early performative pieces of the 1960s and '70s, this was expressed via the use of objects that serve as both extensions and constrictions of the body. Since the 1980s, her work has consisted primarily of kinetic machines and, increasingly, large-scale installations that 'come alive' thanks to movement, with the performing body of earlier shows being replaced by a mechanical 'actor'. These processes of transformation between expanded bodies and animated machines in Horn's oeuvre -which now spans almost five decades- are the focus of the Basel show.
Until 6th of October
Museo Universitario de Arte Contemporaneo, Mexico City – Mexico
This exhibition explores the contemporary artist and activist Ai Weiwei. Ai Weiwei is concerned with the iconoclasm of Chinese heritage and how this has impacted a violent revolution. By looking at traumas in both Mexico and China, Weiwei expresses the underlying impact of violence against young people and its wider effect on culture. In 2016, Ai Weiwei visited Mexico in search of a new project. He created a documentary and portraits made of lego to symbolise the disappearance of 43 students from the Escuela Normal Rural de Ayotzinapa on the night of September 26th – 27th– 2014. Ai Weiwei's emotional and personal work is a real eye-opener into modern-day tragedies.
Félix Vallotton. Painter of Disquiet
Until 28th of October
Royal Academy of Arts, London, UK
Through more than 80 paintings and exquisite prints, this exhibition reveals Vallotton's extraordinary body of work which includes compelling portraits, dreamlike landscapes and satirical prints distilled into pure blocks of black and white. A highlight is his celebrated series of shadowy interior scenes, Les intimités. Painted in striking colour combinations, each laced with unease, these show how Vallotton's legacy echoed into the 20th century – from the paintings of Edward Hopper to the films of Alfred Hitchcock.
Terracotta Warriors & Cai Guo-Qiang
Until 13th of October
The National Gallery of Victoria, Melbourne, Australia
In a dual presentation of Chinese art and culture past and present, the Melbourne Winter Masterpieces series at the National Gallery of Victoria presents China's ancient terracotta warriors alongside an exhibition of new works by one of the world's most exciting contemporary artists, Cai Guo-Qiang.
5th September – 6th October 2019
Messums Wiltshire, UK
An exhibition of new paintings of the English landscape from the Bridgeman Contemporary Artist James Lynch. As part of his focus on this exacting technique, James will show a collection of his artworks nearly all of which are inspired by the area surrounding Messums Wiltshire. Will be open by RSVP a preview of the exhibition Wednesday 4 September, 6:30 pm. Also, in collaboration with the museum, will propose a one day workshop with James Lunch to show and learn more about the egg tempera painting technique. For all enquiries email info@messumswiltshire.com
11th of September – 5th of January 2020
Tate Britain, London, UK
William Blake is one of the most important British artists ever. This new exhibition will reimagine him as a visual artist for the 21st century with an immersive recreation of the small domestic room in which Blake showed his art in 1809. In another room, Blake's dream of showing his works at enormous scale will be made reality using digital technology. With over 300 original works, including his watercolours, paintings and prints, this is the largest show of Blake's work for almost 20 years, and with its combination of installation and 'static' visual art is surely not one to be missed.
11th September – 20th January 2020
Centre Pompidou, Paris, France
This exhibition focuses on works produced by Francis Bacon in the last two decades of his career. It consists of sixty paintings, including 12 triptychs, in addition to a series of portraits and self-portraits from major private and public collections. From 1971 to 1992 (the year of the artist's death), his painting style was marked by its simplification and intensification. His colours acquired new depth, drawn from a unique chromatic register of yellow, pink and saturated orange. The Centre Pompidou will also be organising several events linked to Bacon.
Still Undead: Pop Culture in Britain Beyond the Bauhaus
14th September – 18th January 2020
Nottingham Contemporary, Nottingham, UK
Spanning the 1920s to the 1990s, and including works by some 50 artists, designers and musicians, Still Undead narrates the eclectic and fragmented ways that the Bauhaus's legacy has been transmitted and transformed. It is structured around six relatively loose chronological groupings, which move from the Bauhaus to British art schools, from the high street to the nightclub and beyond.
EGYPTIAN MUMMIES: exploring ancient lives
14th September – 2nd February 2020
Montreal Museum of Fine Arts, Montreal, Canada
Following its tremendous success in Australia, Hong Kong and Taiwan, the exhibition Egyptian Mummies: Exploring Ancient Lives will continue its world tour at the Montreal Museum of Fine Arts, making its North American premiere. The British Museum production reconstructs the lives of six individuals who lived along the Nile from about 900 BC to AD 180. Using an innovative approach combining art and cutting-edge technology, it paints a picture of who these people were. Facets of ancient life, from the individuals' age, beliefs and the diseases they suffered from are all unwrapped in this fascinating display.
18th September – 22nd September 
Green & Stone Gallery, London, UK
Bridgeman Editions & Plinth present Suffragette City, an exhibition of female artists' work responding to London – and redressing their historical absence from its canon narrative. Suffragette City sees works from artists including Gillian Wearing, Bella Freud, Guler Ates, Cornelia Parker Carolina Mazrahi, Carinthia West and Fiona Banner engage with questions raised by London itself – as diverse, and as poignantly specific, as its inhabitants. Exhibiting as part of London Design Festival's programme in Brompton Design District, Suffragette City strives to look futurewards by repositioning the past.
20th September – 6th January 2020
The National Gallery of Victoria, Melbourne, Australia
The works of Albrecht Dürer (1471–1528) have not been seen in such concentration in decades. Here, many of his works can be seen in one place thanks to valuable international loans. Vienna's ALBERTINA Museum—itself home to numerous world-famous icons of drawing by Dürer including the Hare, Praying Hands, and Large Piece of Turf—will be presenting over 200 examples of Dürer's drawings, printed graphics and paintings in autumn 2019. Upon its reopening in 2003, it was with an exhibition of works by Albrecht Dürer that the ALBERTINA Museum ended up welcoming a total of half a million visitors. And now, with the new addition of over 100 drawings, a dozen paintings, personal writings, and other rare documents, the oeuvre of this Renaissance genius will be enjoyed more comprehensively than ever before.
"la Caixa" Collection of Contemporary Art
Selected by Tom McCarthy
19th September – 5th January 2020
Whitechapel Gallery, London, UK
Internationally acclaimed authors explore Spain's leading collection of contemporary art in this series of four displays taking place over the course of a year. Paintings, videos and installations are all included an what is sure to be an arresting and immersive experience.
21st September – 20th December
Toronto, Canada
The Biennial's goal is to galvanize Toronto and nearby cities by connecting communities around art and culture, while simultaneously contributing to global conversations from a distinctly Canadian perspective. The event reflects the specific context of the region and its unique standard for inclusion and openness.
For the inaugural, city-wide art event taking place next fall from September through December 2019 (and for the subsequent 2021 iteration), Candice Hopkins has been appointed Senior Curator and Tairone Bastien has assumed the position of Curator. As part of the Biennial's core team, Ilana Shamoon has been hired as Director of Programming.
Peggy Guggenheim. The Last Dogaressa
21st September – 27th January 2020
Peggy Guggenheim Museum, Venice, Italy
This unique exhibition will celebrate the Venetian life of Peggy Guggenheim by shedding light on how significantly she continued to add works of art to her collection after her departure from New York, having closed her museum-gallery Art of This Century and made Venice her home prior in 1948. Focusing on the last three decades of Guggenheim's acquisitions, the exhibition will offer an unparalleled opportunity to revisit and re-contextualize renowned masterpieces.
Calder-Picasso
24th September – 3rd March 2020
Museo Picasso, Malaga, Spain
As any deep investigation into the works of Alexander Calder (1898-1976) and Pablo Picasso (1881-1973) will reveal, a common theme between them is the exploration of the void, or the absence of space, which both artists defined from figuration to abstraction. The exhibition Calder-Picasso is organized in partnership with the Calder Foundation, New York and the Fundación Almine y Bernard Ruiz-Picasso para el Arte (FABA). It is a coproduction with the Musée national Picasso-Paris where it will be shown from February 19 to August 25, 2019.
Want more shows and exhibitions?
Discover our August Highlights