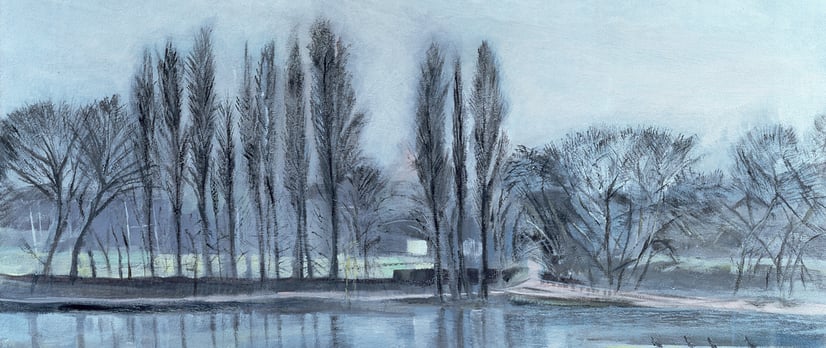 As part of our Mother's Day content, Bridgeman Images are pleased to introduce our readers to Scarlett Thompson, the daughter of Bridgeman Images artist Sophia Elliot.
My Mother, The Artist
My mother Sophia Elliot has been artist throughout her working career. She paints in a variety of mediums, including oils and acrylic. Her work consists of still life pieces, paintings of architecture and a little figurative painting. After studying a foundation course at the Chelsea school of Art, she continued her journey as an artist. My mother is inspired by her surroundings – she looks at everything in detail, taking inspiration from nature and all things visible. She completed a series of works whilst on holiday in Goa, India. These works are among my favourites as they are vibrant and warm in colour. They focus less on realistic depiction, instead relying more heavily on gestural brushstrokes and the combined aesthetics of the scene. The painting below shows a green scene – not accurate in terms of perspective but full of life and colour, acting as a symbolic narrative.
My mother is also interested in architectural studies, and to my mind these are among her most impressive work in terms of skill. Intricate details are evident on the façade of the buildings she depicts. The Palace Wharf painting was created using oil pastel on paper – another medium of which my mother is very fond. The colours, I find, juxtapose the Goa images. They are duller and give the image a rundown feel; a variety of greys and blues make up this piece which causes it to contrast with the work above. The sky is murky in appearance. I remember visiting my mother's studio at the Palace Wharf when I was child, so this artwork gives me a sense of nostalgia. Some of the area surrounding the river Thames is rundown so this painting could be seen as depicting London in a humble light.
I particularly like my mother's still life artworks as well, and would like to mention them here. They are bold in colour and proportionally accurate. We hang my mother's paintings all around our house, so it is impressive when we see that her images have been used for all sorts of publications including book covers and phone cases. Bridgeman provide artists with the opportunity for their work to be used on a huge variety of different projects.
In terms of my own inspiration, I study Art A Level and I enjoy it to a limit. However, I find that making an art piece takes a long time and one has to be fully invested and concentrated on the subject, which requires a lot of patience and can be time consuming. So in theory you might say what I'm most inspired by is my mother's work ethic!
I would like to incorporate my inspiration from my mother into my studies. However, Art is more than a pastime to my mother – she also looks at art as therapy. With her own struggles in life, she looks upon her work as an relaxation method and this is incredibly important for mental well-being.
I think her art is a natural talent as she enjoys dedicating the time needed to complete it, but also constantly reminds me that art is everything – not just the time one puts into it. Everything starts from an image, everything we look at provides some sort of connection to art, be it inspiration, a guideline for what one wants to avoid, or a spark to kickstart a process. As they say at Bridgeman Images, 'Image. It's Everything'!
By Scarlett Thompson
Daughter of artist Sophia Elliot